edly Outcomes Strategy | Intro Webinar

REPLAY
Original Broadcast: Wednesday, April 22, 2020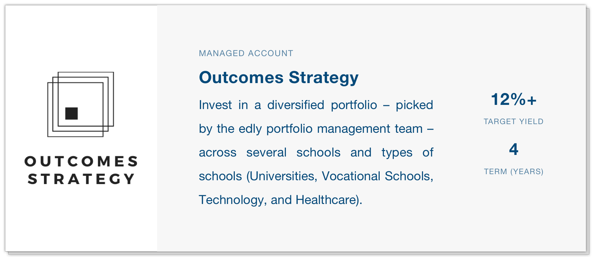 edly investors earn an attractive monthly cash return while creating access to training opportunities for students looking to obtain new skills.
edly specializes in funding the training of students to fill the many open jobs in the COVID-19 environment, and to retrain workers who have lost employment and need new skills to fill these positions.
edly allows students to get these important and relevant skills without taking student loans. edly provides tuition to students in exchange for a percentage of their future earnings. This is much more fair to students and allows them to be able to access the skills training they need.
The newest way to invest on edly is The Outcomes Strategy, a managed account option where edly allocates invested funds across ISA pools for a diverse mix of schools, industries, and geographies.
This webinar is hosted by edly co-founders Chris Ricciardi and Chuck Trafton, and will include time for Q&A.
The webinar is restricted to Accredited Investors. To register, please complete the form on this page.
Upon registration, you will receive an email notification from "edly Webinars" with multiple options to Add to Calendar - these include your unique URL to connect to the webinar, as well as a reminder email prior to the event.